Today is Earth Hour, there will be another few hours that we are encouraged to turn/swtch off our light to show our support to vote for the earth. I don't know how many Malaysian will do that, but as I seen, there won't be many! There are various excuses by Malaysians for not turn/switch off the light,
(1) security reasons - oh man, don't shop, don't pub, don't cafe and stayed at home for an hour, it is not going to jail you for whole life!
(2) business - Malaysians are damn money crazy! What are in front of their eye is $$, they have never seen our earth is sick and they still abusing our mother earth! I don't like those developer especially those developing Penang Island, they cleared up our precious jungle/forest for condominium, tourism and hotel, caused the wildlife and birds lost their habitats, causing land slide, causing the Penang in getting more heat and warm, causing the air pollution, causing the air isn't as fresh as last time! I don't think the restaurant taukeh and street hawker will join the earth hour tonight, as I know they will lost an hour of profit! This is how self-fish they are! They never think their future, and their future for next generation. I think they will be VERY happy if there is one day Malaysia land is sunken due by raising sea level caused by direct heat from sun!
(3) Spoon feed culture - The plastic bag is easily available in every shopping mall, hypermarket and supermarket to provide convenient to customer to carry their good causing the customer never use and bring their own bag for shopping! The business operator claiming that they will lost their business if they are not to do so! What I can say that, if every business operators do it consistently and unitedly, will you lost the business? They should educate their customer to protect our environment but not provide convenient way to their customer to sabotage our environment by those plastic bag! and yet those plastic bag could cut them a lot of costs!
(4) Selffishness - I can see every family have at least two air-conds, and turn it on day and night, do you know how much energy and how much fossil power are you using to keeping our earth warm? Yes, I agree it will heat and warm without air-cond, but then why don't we plant the BIG trees along the resident area, along the street and along the highway like Singaporean do? What have I seen is, the tall trees is chop by local government by planting the small tiny trees which are not sufficient to keep our air cold and fresh! If you have a small little garden or land beside your house, please plant at least a tree there! The trees has it function to cold down the environment and keep the air fresh. Do you know that the air-cond is not environmental friendly and it also generated the heat? I love to sit and stand under the tree because I feel the nature cold and fresh of it, in stead I don't have air-cond in my room even I keep my stamps in the room, I just keep myself cold by fan!
Self-fishness is what I can say to Malaysians and I feel shame on it as a Malaysians! IF you want to prove what am I wrong about my opinions of our Malaysians people, please takes action NOW and support to vote Earth tonight!
Australian POST has been issued a set of stamp a week ago to commemorate 28 March 2009 Earth Hour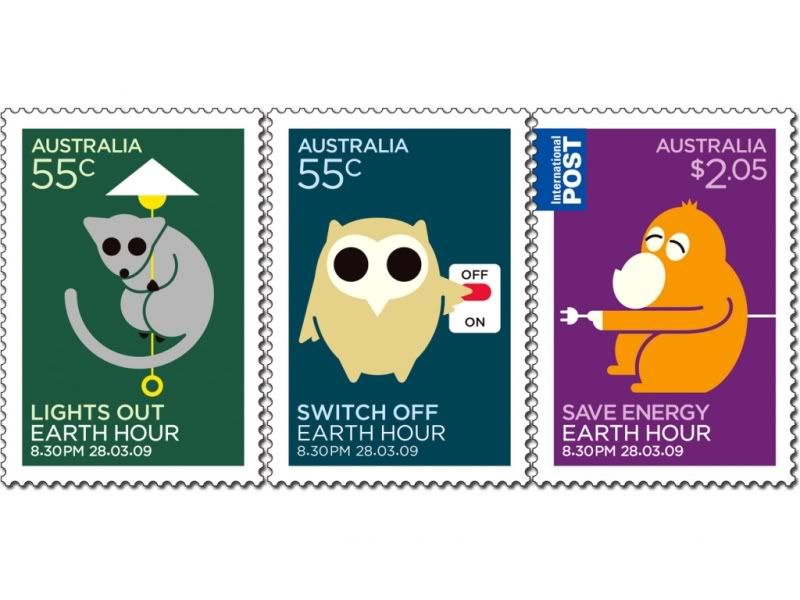 Earth Hour is an initiative of WWF-Australia, conceived to raise awareness of global warming and to show how the small actions of individuals can together make a big difference in reducing greenhouse gas emissions and helping save the planet.
The three stamps in this issue have been designed by Hoyne Design and all feature the text "Earth Hour 8.30pm 28.0309". The stamps all feature a simple graphic representation of an animal – a Leadbeater's possum, an owl and an orangutan, two of which are an endangered.
The messages featured on the stamp are:
* Lights Out
* Switch Off
* Save Energy
Technical Details
Issue date: 11 March 2009
Issue withdrawal date: 30 September 2009
FDI withdrawal date: 8 April 2009
Denominations: 2 x 55c, 1 x $2.05
Designer: Hoyne Design
Printer: McKellar
Paper (gummed): Tullis Russell
Printing process: Lithography
Stamp size: 26mm x 37.5mm
Perforations: 14.6 x 13.86
Sheet layout: 50
National postmark: Darkan, WA 6392