Singapore Cinema Theatres of Yesteryear FDC
Posted:
18 Feb 2009 03:14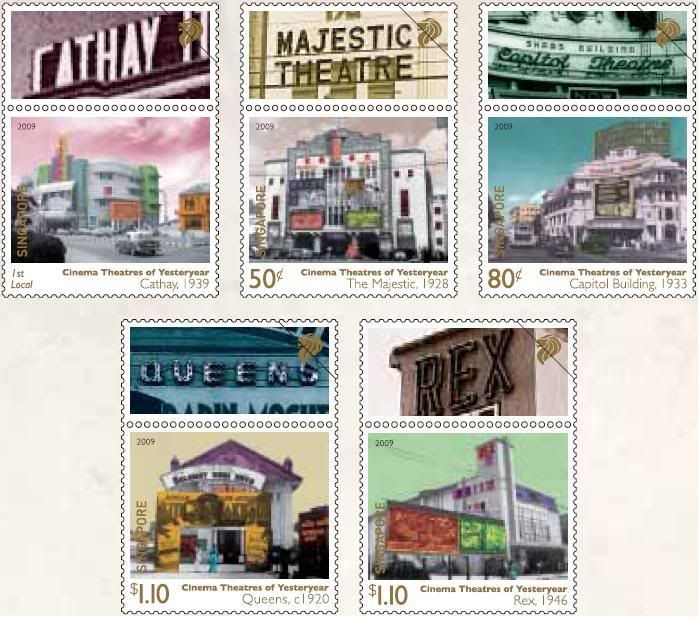 Movie-going has become a regular
and favourite pastime for most
Singaporeans since the first silent films hit
our shores in 1902. The first public screening
in Singapore is said to have taken place in
April 1902 at a tent in an open space at the
junction of River Valley Road and Hill Street
and the first movie theatre opened its door
in 1904. More theatres appeared with Shaw
Organisation operating their own 'proper'
cinema known as The Empire in 1927, and
Cathay Organisation raised the curtains at
The Cathay Cinema in 1939. The Cathay
Cinema was to be the first cinema complex as
well as the tallest building in Singapore then.
Featured in this set of stamps are some of the
grand dames of movie theatres. Th e majestic and
beautiful structures of these theatres featured
still stand today but all, with the exception of
Th e Cathay, no longer screens any movies.
CATHAY
— the cinema, raised it's curtains on 3rd October
1939, becoming Singapore's fi rst air-conditioned cinema and
the fi rst skyscraper, the tallest in Southeast Asia during that
time. On 24 March 2006, it was redeveloped together with
Cathay Building (now known as The Cathay) and opened to
public with 8 cinema halls including The Grand Cathay and
The Picturehouse.
THE MAJESTIC
— is a historic building on Eu Tong Sen
Street in Chinatown built in 1927 and completed in 1928.
Located between the People's Park Complex and Yue
Hwa Department Store, along the stretch of Eu Tong Sen
street, it was known as Majestic Theatre, which used to be
a Cantonese Opera House. In January 2003, the Majestic
Theatre was reopened but as a shopping mall and renamed
"The Majestic".
CAPITOL BUILDING
— is a historic building at the
junction of North Bridge Road and Stamford Road.
Completed in 1933, it operated under the name of Kyo-Ei
Gekkyo until 1944 during the Japanese Occupation. After
1946, the Capitol was purchased by Shaw and rebuilt,
becoming the organisation's flagship theatre and renamed as
Shaw Building. Its use as a movie theatre ended with its last
movie screening on 29 Dec 1998.
QUEENS
— first opened in the 1920s as Ritz Theatre,
located between Lorong 42 Geylang Road and Paya Lebar
Road, it was being renamed as "Nanyo Gekizyo" in 1942
– 1945 (during the Japanese Occupation) and became
Queen's Theatre in 1946. It ceased operations in 1983 but
the old theatre's classical colonial facade was being retained.
REX
— a Shaw Brothers cinema opened in 1946 with the
inaugural screening of The Jungle Book. It ceased operations
in 1983, having screened its last film, "Jaws 3-D" (1983).
The cinema was located at MacKenzie Road, conveniently
next to the bus depot of the Singapore Traction Company,
and Kandang Kerbau Hospital.
Date of Issue 20 March 2009
Denominations 1st Local, 50¢, 80¢, $1.10, $1.10
Stamp Size 35mm x 47.6mm
Perforation 14.25.x 14.25
Paper Unwatermarked
Printing Process Offset Lithography
Printer Southern Colour Print
Sheet Content 10 stamps per sheet
Designed by Design Objectives Pte Ltd