Thailand : Orchid Postage Stamps (Issue of 2010)
Posted:
05 Aug 2010 16:33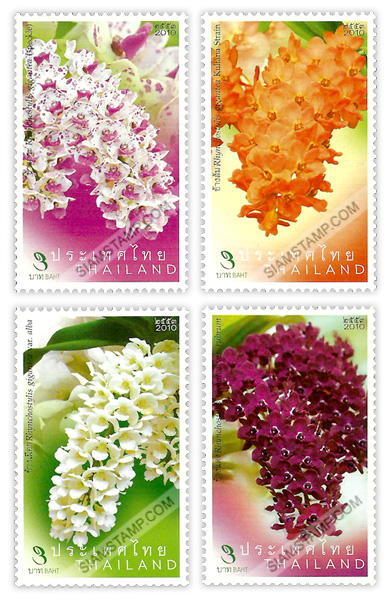 Issue Name : Orchid Postage Stamps (Issue of 2010)
Issue Date : 2010-08-05
Denomination : 3 Baht (4 Designs)
Details : Rhynchostylis Orchid
* Design 1: Rhynchostylis gigantea (Speckle)
* Design 2: Rhynchostylis gigantea Kultana Strain
* Design 3: Rhynchostylis gigantea var. alba
* Design 4: Rhynchostylis gigantea var. rubrum
There are only four kinds of orchid of the Rhynchostylis orchids found in nature-- the Chang (Rhynchostylis), the Iyaret (Rhynchostylis retusa Bl.), the Khao Kae (Rhychostylis coelestris Reichb.f.) and the Philippines' Chang. They are native to South-east Asia--Thailand, Burma, Malaysia, the Philippines and the Indochinese countries. They can also be found in India, Sri Lanka, the South of the islands in the China Sea and the East of the Islands Indies.
They grow from a single base. They are different from orchids of other families in that their stems are strong and short; their succulent leaves are thick and long and they are arranged close to each other on the stem. The furrowed lines on the leaves are in a V shape when the leaves are cut diagonally. The lower ridges of the leaves are prominent and they may have pale, parallel ribs running along their length. The leaf margins may be serrated or crenated. The flowers are fragrant and they bloom only once a year.
Quantity of stamps : 700,000 pieces
Composition : 20 stamps per sheet
Printing Process: Lithography Multi-colour
Souvenir Sheet Price : 20 Baht
Quantity of S/Sheet : 1X0,000 Sheets
FDC Price : 22 Baht
Quantity of FDC : 1X,000 covers