Thailand : The 25th Asian International Stamp Exhibition
Posted:
05 Aug 2010 16:18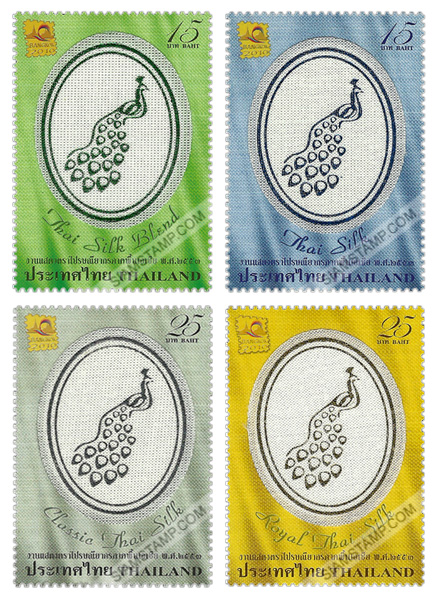 Issue Name : The 25th Asian International Stamp Exhibition Commemorative Stamps (2nd Series) - Amazing Thai Silk
Issue Date : 2010-08-04
Denomination : 25 Baht (2 Designs) and 15 Baht (2 Designs) (estimate 8.00 RM)
Details : The Charm of Thai Silk... Decorating the Postage Stamps
Thai silk has won the hearts of people worldwide for a long time and it has become one of the symbols of the country. In order to honour Her Majesty Queen Sirikit and to promote and publicsize Thai silk and silk products, Thailand Post has requested permission from Her Majesty the Queen to present then Royal Peacock brand, which certifies the high quality of Thai silk, on postage stamps and to use hand-woven silk as part of the stamps. The Royal Peacock brand will be presented in embossed foil in four colours--gold, silver, dark blue and green.
In order to add more value to the stamp collection, postage stamp sheets have been made into two types. The first type features a peacock embroidered with brown silk thread on the golden silk material; the second type presents a peacock embossed on golden foil, on a white silk material. This is the first time that this innovation has been uesd in an issue of postage stamps.
Quantity of stamps: 500,000 pieces per design
Composition: 4 stamps per sheet
Printing Process: Handmade Thai silk postage stamp combines with lithography and metalic foil hot stamp
Designer: Mayuree Narknisorn (Thailand Post Company Limited)
Souvenir Sheet Price: 60 Baht
Quantity of S/Sheet: 1X0,000 Sheets
Imperforated Souvenir Sheet Price: 200 Baht (Saleable at a set of 2 sheets {Imperforated sheet + perforated sheet} with Bangkok 2010 Commemorative Book)
FDC Price: 104 Baht (Saleable at a set of 2 covers)
Quantity of FDC: 1X,000 covers